As the year comes to an end I want to reflect on some of the great wins that we've achieved together.
It's been a tough year, undeniably. It's also made us more aware of the things that are truly important: secure homes, good health, stable jobs, a healthy environment, our community, and being able to hug our loved ones.
Here are some of my personal highlights from 2021:
Gas terminal at Westernport REJECTED!
I joined forces with the local community and environment groups to campaign against a giant polluting gas import terminal in Westernport Bay. In a massive win for the environment and the community, our pressure forced Labor to reject the project!
$7 million funding for Kensington Primary School
I joined Kensington Primary School staff, students and teachers in a campaign to fund upgrades at the school – and we won! Kensington Primary received $7.36 million in the 2020/21 state budget and will now receive the upgrades it needs to make it a truly world-class school.
A COVID pay rise for health workers
We successfully called on the Victorian Labor Government to provide a COVID bonus to nurses, paramedics, and hospital staff providing critical care to get us through the pandemic.
2 big wins for LGBTQ+ equality
In February, the Victorian Parliament passed laws to end cruel 'conversion' practices which seek to suppress or change people's sexuality or gender identity. And this month we passed laws to protect LGBTQ+ teachers, students and staff from discrimination in religious schools! I'm so proud to have joined the LGBTQ+ community in pushing for these important changes, and to have voted YES to pass them.
More funding for midwives and maternity care
Thanks to parents and midwives contacting my office and sharing their stories, I was able to run a successful campaign to secure $13 million extra funding for public maternity care including 175 new midwives in Victorian hospitals and support for at-risk programs at the Royal Women's Hospital.
A primary school for Docklands
A local primary school is something that the Docklands community has called for for a long time. I'm proud to have worked closely with the community on advocating for this – and very excited that Docklands Primary School opened this year! Since opening, I've worked closely with the school to get improved safety measures including an extra crossing supervisor and 40km/hr speed signs.
Pushed to keep kids out of prison
This year the Victorian Greens introduced a bill to raise the age of criminal responsibility from 10 to 14. Because kids need to be treated like kids, not criminals. We'll continue pushing this bill until Labor changes their position and agrees to do the right thing and pass this Bill.
New programs to support public housing residents
Following the 2020 hard lockdown of public housing towers, the Government finally agreed to fund some really important programs for public housing residents in North Melbourne, including programs to support a residents committee to inform Government decisions, employment programs and vaccination information programs.
Pushing Labor to protect threatened species
In 2019, the Greens and our supporters pushed for and secured a Parliamentary Inquiry into extinction and ecosystems decline in Victoria. A few weeks ago, the Inquiry released its findings and revealed that the Victorian Government is underfunding nature by BILLIONS and putting thousands of species at risk. The Greens will be calling for a massive funding boost for the environment and threatened species in next year's budget.
Keeping community together with a second campus of North Melbourne Primary
The site behind me in this photo was originally going to be a new school in North Melbourne. But after listening to the concerns of the local community, I was able to get this site turned into a second campus of the existing North Melbourne Primary School instead. This will help avoid division of neighbourhoods and protect diversity and equality in our community by keeping public and social housing residents in the same school zone as other residents in North Melbourne.
More wins on waste
Following continued pressure from environmental groups and the Greens, the Victorian Labor Government has agreed to ban a range of single-use-plastics including plastic cutlery, plates and stirrers from 2023. This year we've also seen laws finally pass for Victoria's cash-for-cans scheme, which was a huge win the Greens secured last year.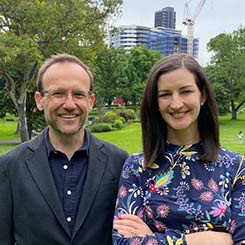 Released our plan to get the CBD and Docklands thriving again
Together with Adam Bandt MP and our Greens Councillors Rohan Leppert and Olivia Ball, we released a plan to get the CBD thriving again by making it more liveable for residents, building more affordable housing and revitalising our arts and small business.
This is of course on top of all the work we've been doing pushing Labor to go further and faster when it comes to climate action which will continue to be a huge priority of ours next year.
Thanks so much for all your support this year.
I couldn't achieve any of these great wins for our community without support from people like you.
I hope that you can take some time to relax over summer, and spend time with those you love.
As always, if there's anything I can help you with, please get in touch: [email protected].
Have a safe and happy summer.